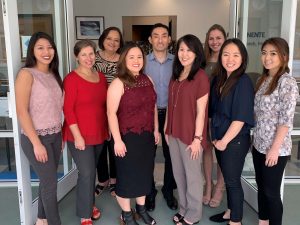 We are please with our new format for the newsletter.  It  includes more data results and answers to some questions that you have asked us. As well as some fun brainteasers.  Please enjoy and let us know what else you would like to know about this study or see in future newsletters.
We are continuing to welcome participants for our 10-year follow-up clinic visit. We will send you an invitation and find a convenient time for your visit. Our goal is to see everyone again who came for their first clinic visit about 10 years ago.  We are also continuing our annual phone calls. Our goal is to call as many participants as possible once a year for four years. Mahalo to everyone who has already taken one or more calls! You will receive invitations in the mail for the clinic visit and the telephone calls or contact us any time to schedule.
Questions? Call us at 808-432-4688 or toll-free at 800-833-5006
Staff News:  We welcome Lisa Kim, Samantha Wong, and Connor Howick who joined the project at the Center for Integrated Health Care Research – Aloha!
Previous Newsletters